Stable doors are one of the most characterful doors out there and are regularly seen at farms and horse stables. The practicality of a stable door is also an asset of the design because of its unconventional opening.
We don't believe that a better stable door exists in the East Midlands and Derbyshire, so get the best version of it from Trent Valley Windows.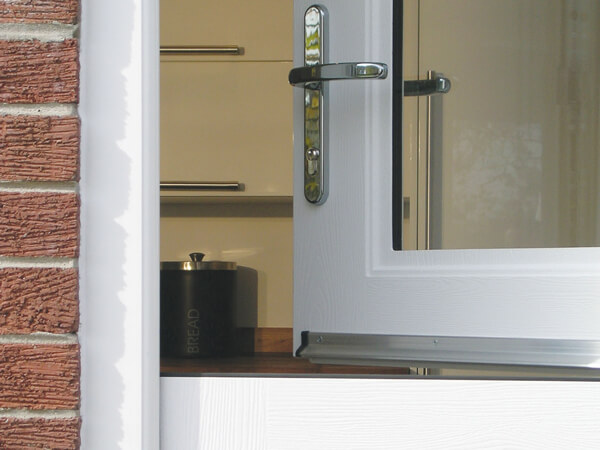 It is horizontally split into two sections, so you can open the bottom section independently from the top section and vice-versa. This would give you the ability to bring in ventilation and keep your kids safe indoors at the same time.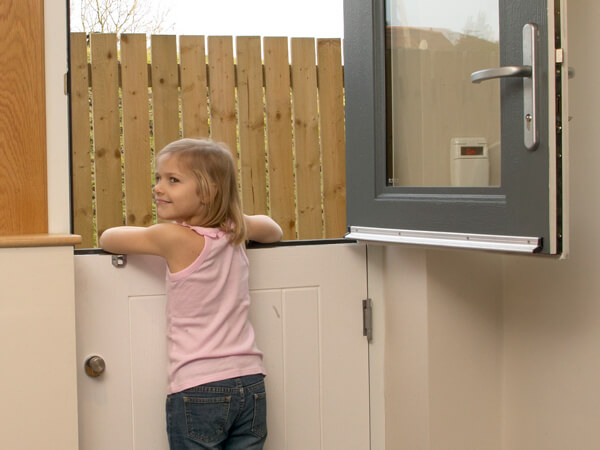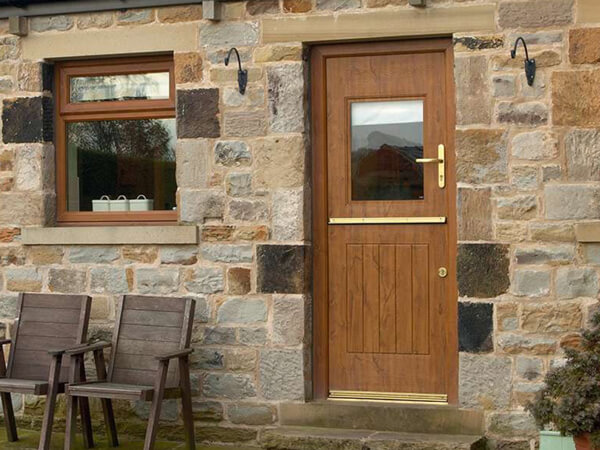 Composite door features at a glance...
Our composite doors possess a weatherproof GRP finish and we've exposed it to hurricane-like conditions to be certain that it can withstand all that the weather has to throw at it. Battered by wind, rain, snow, or ice, it won't lose its looks.
If you click on the hotspots opposite, you can read information about the main features of composite doors.
Get an outline of the key features of our composite doors by clicking the various hotspots opposite.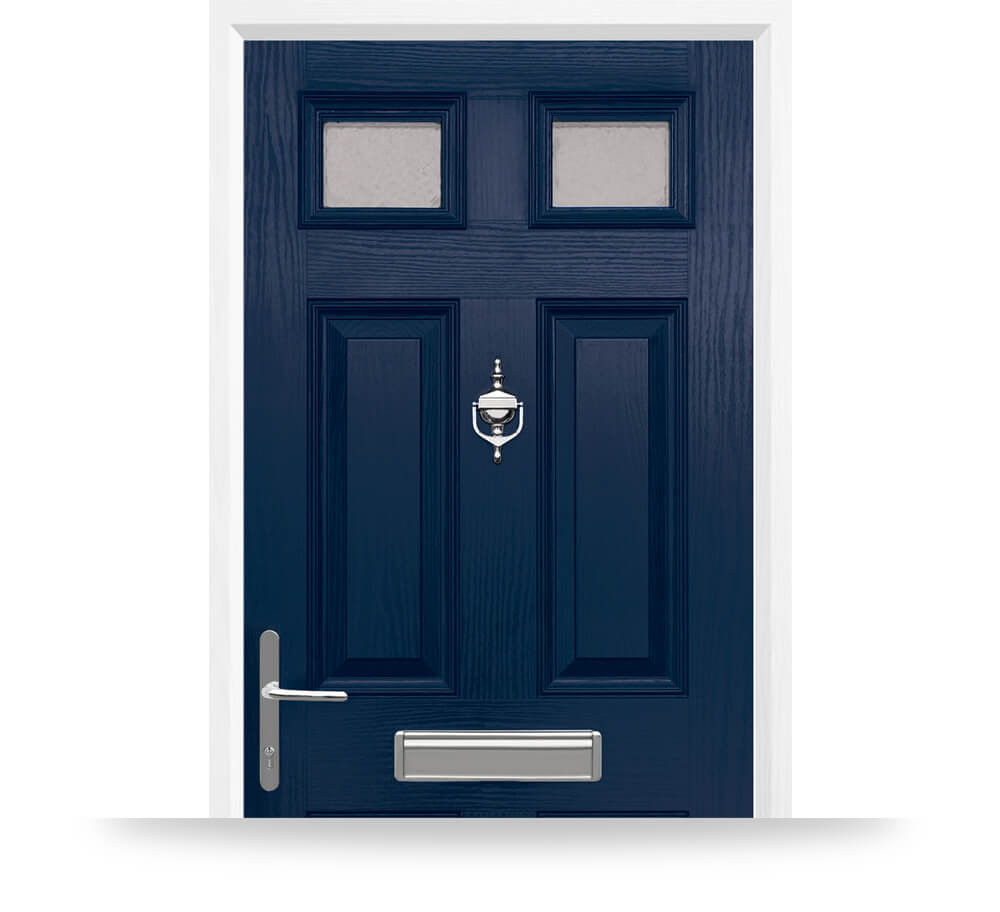 Frontline Security
High-security multi point lock which engages automatically upon closing so no need to lift the handle to engage your door, which means no more draughts or cold spots.
Frontline Hardware
Our Frontline Composite Doors come with a range of hardware including letterboxes, knockers and handles in a variety of colours to suit your home, they're built to last with robust materials and quality finishes.
Frontline Hinges
Anti-crowbar technology that delivers ultimate strength. Horizontal and vertical adjustment that results in 360-degree compression on seals for weather tightness.
Frontline Glazing
Available with a wide range of glazing styles, including obscure and decorative glass.
Now, this is what you call a secure door…
You can't compare any other door to a composite door as it offers unbeatable strength and can withstand virtually anything. Its toughness has been tested out and it has proven it has lasting endurance. Home security will be the last thing on your mind when you lock the door and go up to bed at night as you will have as much confidence as we do that it will be an immovable barrier.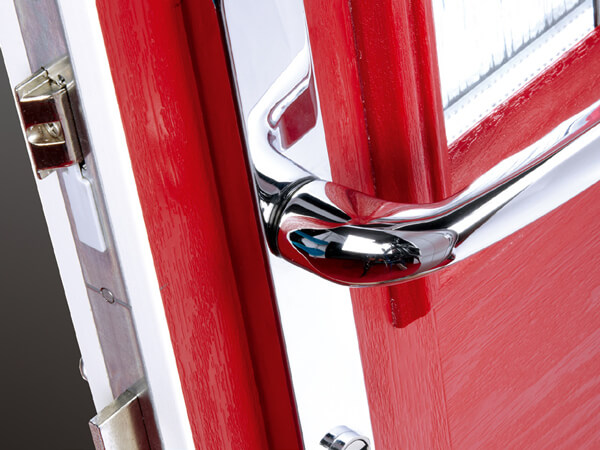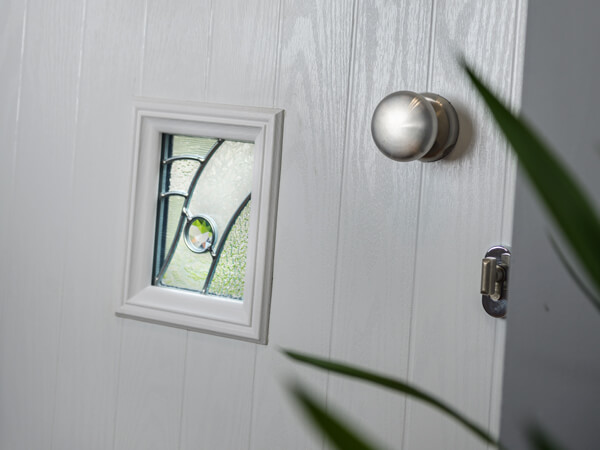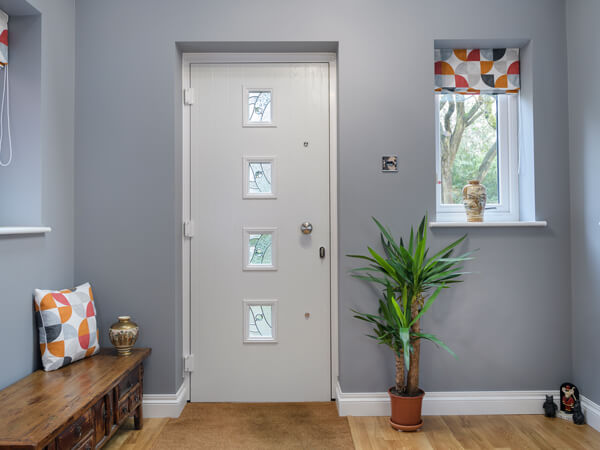 CUSTOMISE YOUR COMPOSITE DOOR
Composite doors have such a long lifespan or at least do if they're bought from Trent Valley Windows. They will never exhibit a dated look, and you can customise so much of them, from the hardware to the coloured finish applied to both sides of the door frame. With the help of your advisor, you can have a look at various potential composite door designs and see they would look like fitted to your home via our design software.
The colours we have for our composite doors are highly eclectic, with something for everyone...
We have you completely covered for colour options when you're trying to select a finish for one of our composite doors. Alongside the usual favourites such as White and Black, we also offer Grey, Chartwell Green, and a host of other aesthetically pleasing coloured finishes.
To make your composite door look even more like a timber door, ask us to apply an Oak or Darkwood finish to the door frame. We create our woodgrains using a specialised colour application process.
Find a well-matched handle…
Our composite doors are so stylishly designed that it would devalue them if the handles were not up to the same standard. They boast so much style and flair.
There's a wealth of handle styles for you to have a look at, including your more traditional handles and modern varieties. Every handle has its own uniqueness.
Furnishing your composite door is how you complete the design...
You don't want your composite door to look unfinished. It needs to be furnished with a choice of handle; letterbox, number plate etc. and you also need to have a secure locking mechanism incorporated into the design. We have a very wide suite of hardware, with all facets of door furniture available in just about every shape, size and shade you can think of. After being affixed to the door, these hardware solutions will keep their look just as much as the rest of the door will.
REQUEST YOUR FREE DOOR QUOTE
Simply fill in your details for your free, no obligation quotation, and click "Get Quote"
Our friendly team will be pleased to help with any questions you may have.
NEED MORE INSPIRATION? REQUEST A BROCHURE
Simply select the brochure(s) you would like to browse, fill in your details, and then click 'Download'.
Step 1 - Please select the brochure(s) you would like: