BI-FOLDING DOORS
These luxury sliding doors will create a beautiful entrance to your garden…
GET A FREE QUOTE
With our stunning bi-fold door, you could create a whole new lifestyle experience. Bi fold doors are a beautiful way of connecting home and garden, creating a unique open-plan effect throughout your home. Bi-folding doors are the best way to open a space, and they look amazing too. With their unique concertina way of opening, they are great for really opening a space into the outdoors.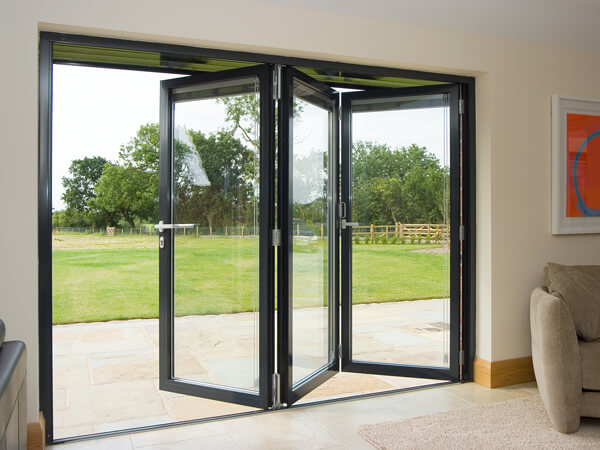 Also, when closed, they still let a huge amount of light in because we can make them into any size. You can incorporate more glass than other doors, whilst still being able to fully open your room to the world when required. As with every door we provide, we ensure our bi-fold doors are fitted with the best security and locking system.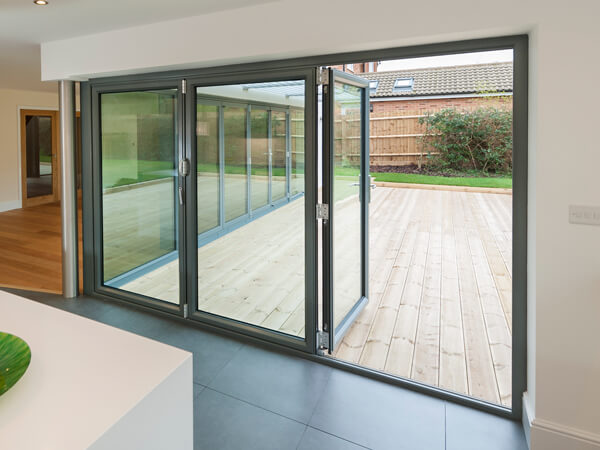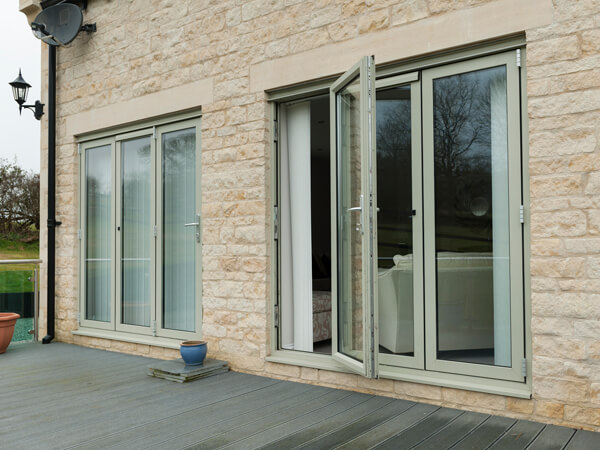 Bi-Fold Doors
You only need to give our bi-folding door a small push to make the entirety of the door fold and make its way across the stainless-steel runner. It's the feature door that everyone wants.
Keen to know more about our aluminium bi-folding doors? The hotspots will tell you everything you need to know.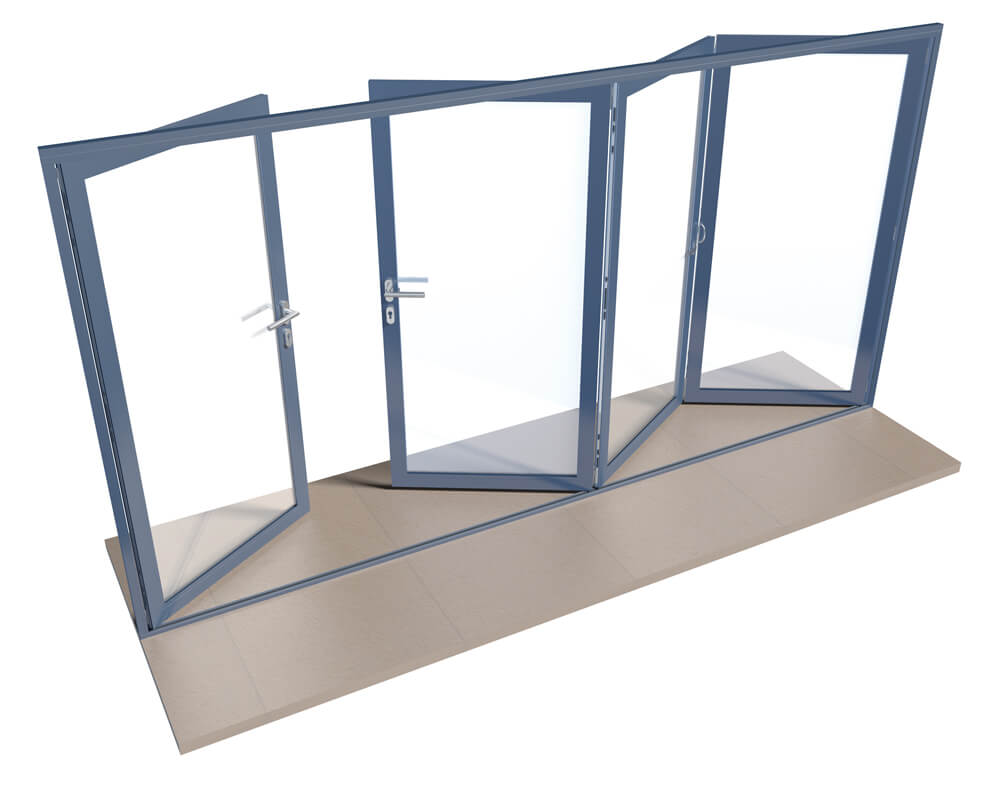 Bi-Fold Frame
Our Bi-Fold frames boast maximum warmth and security and slide effortlessly to the side to make the most of your space. You can even incorporate a discreet passenger door for everyday entry.
Bi-Fold hardware
Our Bi-Fold Door Handles come in a range of colours to suit your home, they're built to last with robust materials and quality finishes.
Bi-Fold Easy Glide System
The sliding operation of a bi-folding door relies on a high-quality stainless-steel track on which quad rollers, which are fitted to the door leafs, glide along in elegant fashion. The same quad rollers are fitted with a small brush on one end to keep the tracks free of dust and dirt.
Bi-Fold Low Threshold
Low level thresholds increase the ease of access for everyone involved. An optional outer and inner ramp can be added on to the threshold to further enhance the accessibility for wheelchair users.
Security is prioritised as much as style, and it shows...
Sitting right at the heart of our bi-folding doors is a multi-point locking system. As soon as it is engaged, there is no shifting the doors open. There is also a lock keep, ensuring the door sash remains firmly fixed into the door frame.
The double glazed and triple units we put into the bi-folding door frames are as robust as this locking system. Intruders also need to negotiate their way through the cylinder locks, and there's little chance of them having any luck.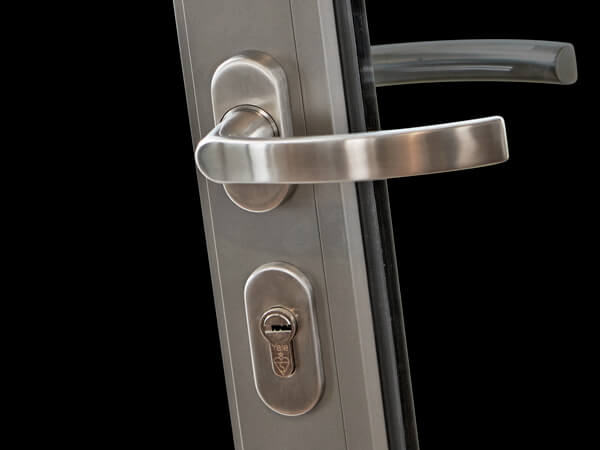 COMPLETE THE DESIGN IN STYLE
Just inform your designer of your preferred finish, glazing and hardware so that they can then bring your aluminium bi-folding door to life.
The door will be configured for the available space…
No home is ever the same, so we know that your aluminium bi-folding door will need to be specially configured to fit in. Many of our bi-folding door installations involve the product being integrated into the space between home and extensions and homes and gardens, and we can provide up to a 7-panelled door.
It's so hard to pick from so many pretty colours…
There isn't just a multitude of configuration options for our bi-folding doors. They can also be finished in countless different colours, including one of our sublimated woodgrain finishes of Rosewood, Walnut or Oak. We also have an array of powder-coated finishes available.
If you end up being torn between two colours, you can always have a dual finish, with one colour on the outside, and the other colour on the outside, that way you get the best of both worlds.
Handles are far more than just a minor detail…
The various configurations of a bi-folding door require certain types of handles. Pass doors and integrated French doors will require a master handle which will house a cylinder lock and will be used to engage the multi-point locking system when the bi-fold door is in the closed position.
Each bi-folding section will also entail the use of both a D-handle and an intermediate handle. The latter is used to release the folding panes from the door frame when opening and, of course, re-engage them when closing. A D-handle is used to push or pull the folding panes as appropriate. Within our hardware range we offer both contemporary and traditional master handles which are colour matched by the intermediate and D-handles.
REQUEST YOUR FREE DOOR QUOTE
Simply fill in your details for your free, no obligation quotation, and click "Get Quote"
Our friendly team will be pleased to help with any questions you may have.
NEED MORE INSPIRATION? REQUEST A BROCHURE
Simply select the brochure(s) you would like to browse, fill in your details, and then click 'Download'.
Step 1 - Please select the brochure(s) you would like: