Our French doors can be made to measure so you can guarantee once you see a style or colour you like from our huge range, then we will be able to install them anywhere in your home. People generally have them going out into the garden or on to a patio area, but they aren't limited to this. All our French doors are fitted with the best security and locking technology for that extra piece of mind.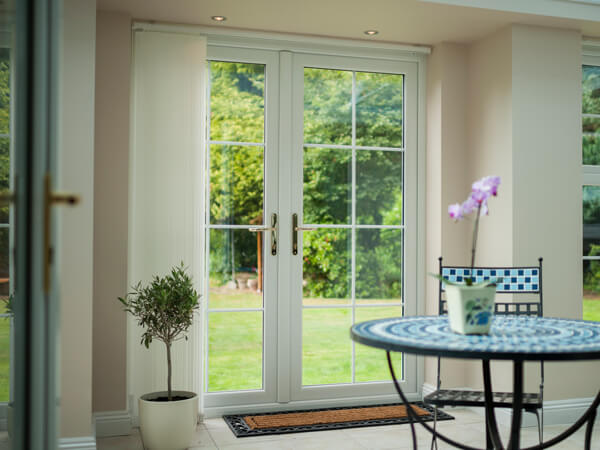 It's rare not to see a set of French doors in the homes of our European counterparts, and no, they're not just for countries with a warmer climate. You should welcome them into the fold too. Predominantly glazed, they're highly decorative and offer a beautiful double opening that can open rooms out. If you neglect your garden and want to make more use of it, a French door installation is a real necessity.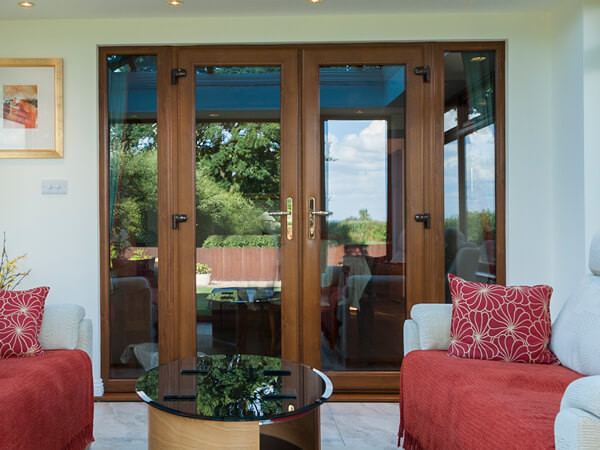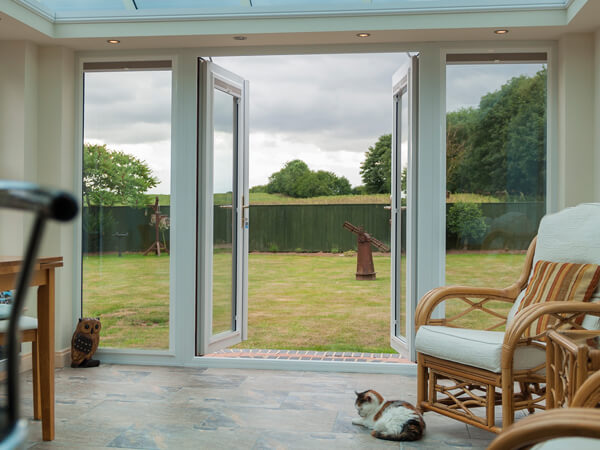 CREATE A BOLD, BEAUTIFUL OPENING
Make the transition from your home to your conservatory or orangery or your home extension to your garden a stylish one by getting some beautiful new French doors fitted. It will make the movement of furniture between spaces so much easier and the added warmth that the doors filter into your space will give your more comfortable home surroundings. And just wait until you see just how much lighter the house becomes because of the prolonged glass panes pushing natural light through to your spaces.
A UPVC French door will resist ageing, is low-cost and low maintenance…
The appeal of UPVC as a material lies in its affordability, resilience, and the ease with which it can be cleaned and maintained. That's before you even consider the outstanding energy efficiency it boasts, great for lowering energy usage and cutting heating costs. It performs brilliantly in all aspects and won't let you down.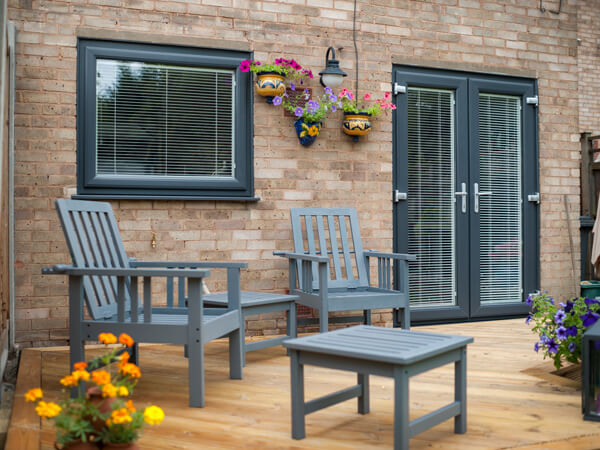 Make the choice of a textured woodgrain or smooth surface finish…
We can finish our classic UPVC French doors in almost any colour as we use an innovative colouring technique. Want something unique? That shouldn't be a problem! White, Whitegrain and Cream are included in our standard colour palette, and we also supply finishes of Black, Grey and Irish Oak if they're more in keeping with your taste.
Aluminium designs are so sleek and full of glass…
Aluminium has so many selling-points and one of the most prominent of them is the flexibility of this hardened material, which is how we're able to create such slender aluminium French door designs. So much glass occupies the doors because of how trim the profile is. If it's kerb appeal you want, an aluminium French door will bring it.
Timber has a unique look and so does aluminium with the subtle intricate contour on the external side of the frame giving it a wood-inspired effect. Our powder-coated finishes also add a rich and impactful texture.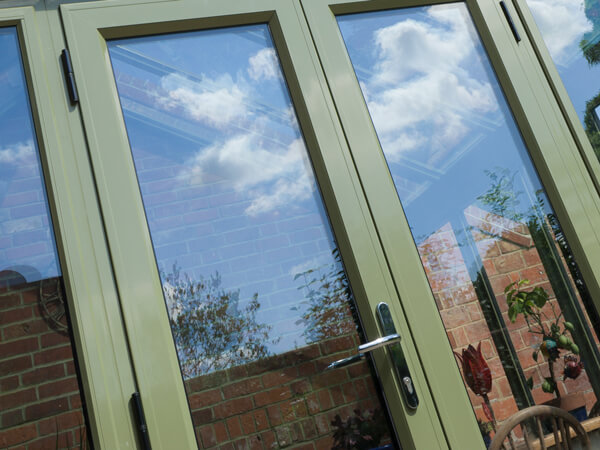 Our aluminium powder-coated finishes are so engaging to look at and never fade…
We're very strict with our colouring procedure and always stick to an 11-stage powder-coating process. When put into operation, it causes strong paint adhesions to be induced and that's responsible for the finish looking and feeling so good. For customers wanting a woodgrain finish, we employ an equivalent process called sublimation. It's how we create such convincing Rosewood, Oak, and Walnut effects.
REQUEST YOUR FREE DOOR QUOTE
Simply fill in your details for your free, no obligation quotation, and click "Get Quote"
Our friendly team will be pleased to help with any questions you may have.
NEED MORE INSPIRATION? REQUEST A BROCHURE
Simply select the brochure(s) you would like to browse, fill in your details, and then click 'Download'.
Step 1 - Please select the brochure(s) you would like: